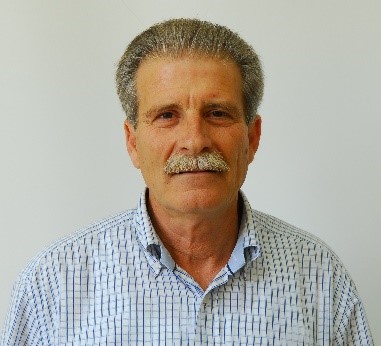 Academic discipline: Viticulture – arboriculture (fruit trees)
Telephone number: +30–2810-379465
Email: gkolior@hmu.gr
Office hours: Wednesday 11.00-13.00 and Thursday 11.00-13.00
Courses
Viticulture
Advanced viticulture
General Pomology
Deciduous fruits trees
Studies
BSc Plant Sciences, School of Agricultural Technology, Department of Plant Production, TEI of Heraklion, Crete, 1979.
Diploma of Crop Production, Advanced Postgraduate Specialization Training Course, 488 hours (1 year) duration, School of Agricultural Technology, TEI of Thessaloniki, 1986 -1987.
Research Interests
Physiological and biochemical effects of salinity and rootstock on vineyards, with emphasis on the concentrations of minerals in the various parts of the vine and their role in vine growing.
Effects of growth regulators in combination with specific cultivation techniques on the quality of Sultanina cv table grapes.
Drying process and quality of Sultanina cv raisins.
Preservation and assessment of traditional wine varieties.
Conservation and assessment of local varieties of deciduous fruit trees.
Additional information
Member of the Laboratory of Oliviculture and Agroecological Production Systems
Participation in the research projects LIFE IGIC and VEPE